Haier Asia Co.,Ltd.
October 29, 2015
Haier Asia holds Press Launch to introduce new STAR WARS products under AQUA
Haier Asia Co., Ltd. (Head Office: Chiyoda-ku, Tokyo; President & CEO: Yoshiaki Ito; "Haier Asia") today, held a press launch to introduce into Japan the new AQUA "STAR WARS" series – a bold and unique approach to turn home appliances into personal beloved pieces*.
The first film of the new Star Wars trilogy, "Star Wars: The Force Awakens" will finally hit the big screen this coming December, ten years after the release of last episode, "Episode III Revenge of the Sith" (2005). Fans from all over the world are definitely looking forward with much excitement this legendary movie series. Based on a license agreement with The Walt Disney Company (Japan) Ltd., Haier Asia today launches products designed in STAR WARS characters that will certainly excite all STAR WARS enthusiasts.
Haier Asia is confident that its STAR WARS series will satisfy many fans and users via the meticulous handling of its Japanese product engineers and developers for the entire development process, from planning to design to manufacturing.
With AQUA's vision of "Japan Awakens," Haier Asia aims to expand its market share from Japan to Asia and then reaching all corners of the world. With the STAR WARS series, Haier Asia is able to demonstrate and promote AQUA's high innovation capabilities.
* Haier Asia's three business strategies:
"Building new business models using home appliances," "Innovation in existing fields," and "Turning home appliances into personal beloved pieces"
R2-D2TM moving refrigerator. This life-size (1:1) R2-D2 is sdesigned with keen attention to every detail. It is a refrigerator with a cooling function for canned and bottled beverages. Additionally, with its remote controlled mobility feature, users may direct this dream product to deliver beverages when they want to have a drink on a couch or welcome guests with their favorite drinks. The unit is also equipped with a projector, enabling it to project image on a Miracast device. This amazing product replicates the exact details of the R2-D2: its voice (sound effects), its head motion, its blinking lights, its traveling speed. This limited edition product is made to order; with pre-orders are accepted beginning October 29, 2015.
Cooling Mask Box:Darth Vader(DV) Haier Asia will release by the end of this year, a Cooling Mask Box designed after Darth Vader, arguably the most popular character in the STAR WARS movie. With fine details and carefully crafted design in limited edition, it is an ideal interior accent or a unique gift for the STAR WARS collector. Pre-orders are accepted beginning October 29, 2015; Haier Asia also plans to release this product in Stormtrooper and C-3PO models.
Cordless vacuum cleaner. This sleek, modern-looking vacuum cleaner will be made available early December. Available in black and white, this product comes in Darth Vader and Stormtrooper designs. Pre-order starting October 29 via Haier Asia's e-Commerce site, AbyA (http://abya- store.com), as well as at retailers nationwide, along with additional selected e-Commerce websites.
Handheld washing machine: AQUA Coton. Almost as light as your smartphone, this portable world's first palm-size washing machine keeps your clothes dirt and stains free.
Interchangeable refrigerator cover: AQUA Colo-mo. Accentuate your kitchen interior with these snap-on covers customized for selected refrigerator models.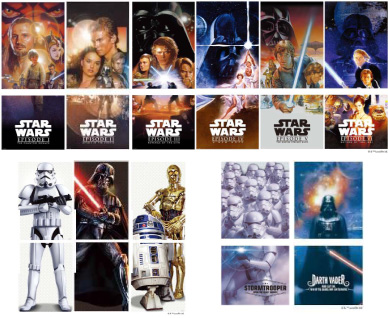 AQUA Coton and Colo-mo Star Wars products are now available in Haier Asia's e-Commerce site, AbyA (
http://abya-store.com
).
About AQUA
Launched in 2012, AQUA is the home electronics brand that aims to bring the best of Japan to Asia and to the world. Standing for "Authentic Question Unique Answer", AQUA promises to deliver unexpected innovations to consumers through meticulous Japanese technology and quality.
Media Inquiries
Haier Asia PR Office, Witan Acssociates:
Contact: Mr. Nakamura Phone: +81 3 5544 8481 FAX: +81 3 3586 0662 emai: haier-pr@witan.co.jp This News Release was issued from Witan Associates on behalf of Haier Asia Co., Led.